Thousands of hours of international field recordings housed in the Alan Lomax Archive will now reach audiences through Real-to-Reel Records (formerly Global Jukebox Records), the Archive's first independent music imprint. Real-to-Reel will produce LPs, CDs and digital albums in partnership with other folkloric institutions, record labels, university presses, along with the global reach of the digital distributor Orchard. These releases will engage and inspire audiences around the world with the ever-vital work that Alan Lomax documented, and help fulfill Lomax's mission of "cultural equity," the right of every culture to express and develop its distinctive heritage of songs, dances and stories.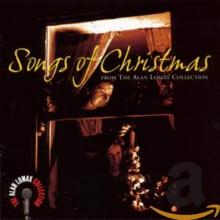 Christmas Songs
Compiled and edited by Matthew Barton, liner notes by Matthew Barton and Ellen Harold.
Songs of Christmas was recorded by Alan Lomax and several of his colleagues in Britain, Ireland, Italy, Spain, the Southern U.S. and the Caribbean between 1950 to 1964. At the time, commercial forces were overwhelming local traditions, and many folk cultures stood on the brink of great upheavals that would forever alter their ways of life. Lomax always made a point of seeking out the music that epitomized the old Christmas spirit that was closest to his own heart. English Mummers, Italian bagpipes, lullabies, carols, and stories express the unquenchable fun, faith, and good times of Christmas and the immemorial good-luck rituals of the New Year. With Bob & Ron Copper, Ewan MacColl, Seamus Ennis, Vera Ward Hall, the Alabama Sacred Harp singers, the Georgia Sea Island Singers, the Putipu Band of Capri, Norman Edmonds, the Symondsbury Mummers and many, many more. Containing 31 tracks in all, the album comes with extensive liner notes and photographs and complete song and dialect translations from the Spanish, Italian, Latin and Irish.