Thousands of hours of international field recordings housed in the Alan Lomax Archive will now reach audiences through Real-to-Reel Records (formerly Global Jukebox Records), the Archive's first independent music imprint. Real-to-Reel will produce LPs, CDs and digital albums in partnership with other folkloric institutions, record labels, university presses, along with the global reach of the digital distributor Orchard. These releases will engage and inspire audiences around the world with the ever-vital work that Alan Lomax documented, and help fulfill Lomax's mission of "cultural equity," the right of every culture to express and develop its distinctive heritage of songs, dances and stories.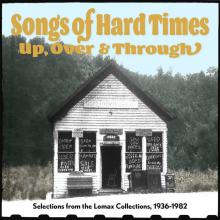 Songs of Hard Times: Up, Over & Through (1936​-​1982)
A 20-track Bandcamp-exclusive, prepared specifically for these trying times (Spring 2020). Featuring songs regarding difficulties, worries, and troubles — and various approaches of enduring and/or transcending them — drawn from the Caribbean, Spain, Italy, Scotland, England, and around the USA. Includes six previously unreleased tracks (see asterisks). May they provide some additional inspiration to you on your way up, over and through.