The Lomax Collection at the Library of Congress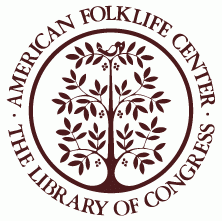 The American Folklife Center, the Librarian of The Library of Congress, and Anna Lomax Wood worked out a unique partnership by which the Library got the originals (and digital copies) of Alan Lomax's works and ACE put them into wide circulation. In 2004, through the generosity of an anonymous donor, The Library of Congress acquired the original recordings and photographs, media collections, library, manuscripts, and research materials assembled by Alan Lomax over the course of six decades, uniting them with the recordings made by Alan and his father, John Avery Lomax, for the Archive of American Folk Song from 1933 to 1942.
The Alan Lomax Collection at the American Folklife Center of The Library of Congress is curated by Todd Harvey. ACE and the AFC collaborate on exhibitions, conferences, publications, and repatriation projects.
The Collection is indexed and available for research at the American Folklife Center. For more information please contact the American Folklife Center:
Todd Harvey, Ph.D.
Folklife Specialist 
Curator of the Alan Lomax Collection at the American Folklife Center
The Library of Congress
101 Independence Avenue, SE
Washington, D.C. 20540-4610
(202) 707-8245
tharvey@loc.gov