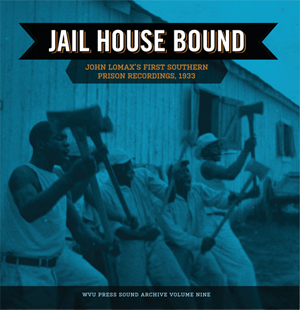 Jail House Bound: John Lomax's First Southern Prison Recordings, 1933
( Global Jukebox Records 2014 )
Available for purchase:
JAIL HOUSE BOUND: JOHN LOMAX'S FIRST SOUTHERN PRISON RECORDINGS, 1933
In 1933, with the support of Macmillan Publishers and the Music Division of the Library of Congress, John A. Lomax made the first of his field-recording trips through the American South. Joined by his seventeen-year-old son Alan, Lomax visited some of the most notorious Southern penitentiaries—among them Sugar Land in Texas; Angola in Louisiana; Parchman Farm in Mississippi—where he knew anachronistic strains of African American folk-song would be preserved away from the influence of the radio, the phonograph, and cross-pollination with whites. The Lomaxes recorded the songs of timber and ground-clearing gangs, chants of the road and railroad crews, solo field hollers with their roots running deep into the antebellum south; they also recorded comic songs, blues, and spirituals. By late 1934, they had recorded dozens of singers and hundreds of songs—"poetic expressions," as Lomax described them, "of pungent wit, simple beauty, startling imagery, extraordinary vividness and power."
Jail House Bound, a production of West Virginia University Press, collects the earliest of the Lomaxes' prison recordings-made between July and December 1933 in Texas, Louisiana, Mississippi, and Tennessee-and draws on new remasters from the fragile original acetate discs. The album is introduced by noted American music scholar Mark Allan Jackson (author of Prophet Singer: The Voice and Vision of Woody Guthrie).
Jail House Bound is released digitally by Global Jukebox in collaboration with West Virginia University Press. Also available as a CD through WVU Press.
Rattler by Mose "Clear Rock" Platt
That's Alright, Honey by Mose "Clear Rock" Platt
The Midnight Special by Ernest "Mexico" Williams
Ain't No More Cane on the Brazos by Ernest "Mexico" Williams 1933
Ain't No More Cane on the Brazos by Ernest "Mexico" Williams with James "Iron Head" Baker
My Yellow Gal by James "Iron Head" Baker with R.D. Allen and Will Crosby
Black Betty by James "Iron Head" Baker with R.D. Allen and Will Crosby
The Grey Goose by James "Iron Head" Baker with R.D. Allen and Will Crosby
Long Gone by "Lightning" Washington
Long John by "Lightning" Washington
Good God Almighty by "Lightning" Washington
Stewball
John Henry
He Never Said a Mumbling Word
Rosie
Alabama Bound by "Bowlegs"
Jumpin Judy
John Henry
Jumpin Judy by Allen Prothero
Sit Down, Servant by Adie Corbin and Ed Frierson
Levee Camp Holler by John "Black Sampson" Gibson
Track Lining Song by John "Black Sampson" Gibson
Steel Laying Holler by Rochelle Harris
Interview with John Lomax 1933