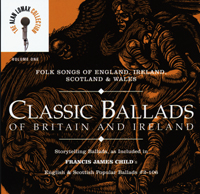 Classic Ballads of Britain and Ireland, Vol. 1 (#2-105)
As included in Francis James Child's English & Scottish Popular Ballads (1882–1898), Nos. 2–299
Recorded in the field between 1949 and 1968 by Peter Kennedy, Alan Lomax, Bob Copper, Seamus Ennis, Hamish Henderson, Maud Karpeles, Sean O'Boyle, and Patrick Shuldham-Shaw, assisted by Shirley Collins
Notes by Alan Lomax and Peter Kennedy
Romantic, historical, dramatic, and comic ballads, both familiar and rare, recorded in the field in pubs, country cottages, and at tinker firesides. Fifty years after they were documented by Francis James Child, these ballads still lived in the repertoires of some of the finest traditional singers in England, Ireland, Scotland, and Wales.