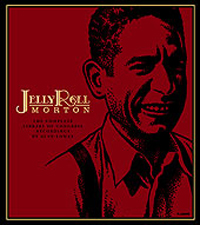 "It is to jazz what the autobiography of Benjamin Franklin is to American history — only more fun." 
—Wall Street Journal
"An incredible achievement, as if Mark Twain happened to also be a masterful pianist." 
—New York Times
Recorded in 1938 by Alan Lomax
Produced by Jeffrey A. Greenberg and Anna Lomax Wood
Mastering Producers: Steve Rosenthal and Adam Ayan
"Doctor Jazz" essay by John Szwed, with additional material, transcriptions, and notes edited by Anna Lomax Wood and Nathan Salsburg
New Orleans composer, pianist, and occasional pool shark Jelly Roll Morton was one of the key figures in the creation of jazz. Alan Lomax was a visionary young folklorist. Together, at the Library of Congress in 1938, they made the first recorded oral history in jazz. Jelly Roll's picaresque and remarkably detailed stories of the milieu of jazz's formative years are accompanied by his musical illustrations, his flawless, haunting singing, and stunning solo piano versions of his best-known compositions. The dandies, piano players, prostitutes, hustlers, and musical legends of Jelly Roll's world come to life in his riveting narrative, which is an essential document of American culture.
Jelly Roll Morton saw these sessions as an opportunity to affirm his role in early jazz, which he does with great dignity, scrupulously crediting other composers and virtuosi in the field. "He made clear by word and example that he wanted to be seen as a winner: jazz was an art, and he was a pianist of the highest order, having developed a style that was rhythmically virtuosic and orchestral in its detail and fullness," writes John Szwed. "He was the first composer in jazz, and a modernist." Indeed, Morton's central role in the emergence of compositional jazz as we know it today cannot be overstated. As he said himself, "Jazz is a style that can be applied to any type of music."
**Grammy for Best Historical Album of 2005

**Grammy for Best Album Notes of 2005

"It's a masterpiece, essential testimony to the origins of America's greatest cultural art form, and a magnificent addition to any serious collection of jazz and roots music." —Toronto Star 

"As works in the American vein go, this is right up there with The Adventures of Huckleberry Finn." 
—Los Angeles City Beat

"One of the central artifacts in the history of American music." 
—No Depression
The first complete, unexpurgated release of the 1938 Library of Congress recordings, on seven compact discs, plus a bonus disc of interviews of Jelly Roll Morton's peers by Alan Lomax.
Remastered from the original acetate discs at the Library of Congress using Sony Direct Stream Digital technology, and restored with the Cedar Cambridge™ system.
Includes Alan Lomax's acclaimed biography, Mister Jelly Roll, and a new 80-page book with an essay by John Szwed, Morton's complete writings, and many rare photographs.
Included as an Adobe PDF document are: a new, annotated transcription of the 1938 sessions; unrecorded interview material and research notes by Alan Lomax (1938–1949); Morton's 1938 letters to James Roosevelt, to a Supreme Court Justice, to Roy Carew, and to Alan Lomax; excerpts from a 1982 Tulane University Symposium on Morton; and William Russell's handwritten comments to Alan Lomax about Mr. Jelly Roll.