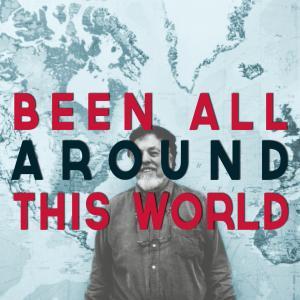 Been All Around This World is a podcast exploring the breadth and depth of folklorist Alan Lomax's seven decades of field recordings. From the earliest trips he made through the American South with his father, John A. Lomax, beginning in 1933, to his last documentary work in the early 1990s, the program will present seminal artists and performances alongside obscure, unidentified, and previously unheard singers and players, from around America and the world, drawn from the Alan Lomax Collection at the American Folklife Center, Library of Congress. It is produced and hosted by Nathan Salsburg, curator of the Alan Lomax Archive at the Association for Cultural Equity, the non-profit research center and advocacy organization that Lomax founded in 1983.
Episode 01 - I've Been All Around This World
In the inaugural episode of "Been All Around This World" we survey Alan Lomax's seven-decade field-recording career, with music from Haiti, Ireland, Mississippi, North Carolina, and the tiny Caribbean island of Carriacou, recorded between 1937 and 1991.
Playlist:
1. Rara St. Therese: Mwen tètè (I Am Stubborn). Members unidentified. Recorded on March 27, 1937, in Carrefour Dufort, Haiti.
2. Tangle Eye (Walter Jackson) with Hard Hat (Willie Lacy), 22 (Benny Will Richardson), and Little Red: When I Went to Leland. Recorded at Parchman Farm (Mississippi State Penitentiary), Sunflower County, Mississippi, November or December 1947. 
3. Margaret Barry: She Moved Through the Fair. Recorded in London, England, on November 1, 1953. 
4. Georgia Sea Island Singers (Bessie Jones, John Davis, and Emma Ramsey) with Hobart Smith, Ed Young, and Nat Rahmings: That Suits Me. Recorded at St. Simons Island, Georgia, in April 1960. 
5. Belton Sutherland: Blues #2. Recorded at the home of Clyde "Judas" Maxwell, Madison County, Mississippi, on September 3, 1978. 
6. Sheila Kay Adams: Dinah. Recorded at the home of Dellie Chandler Norton, Sodom Laurel, Burton Cove, Madison County, North Carolina, September 6-7, 1982. 
7. Winston Fleary: Marullus's speech from Julius Caesar (Act I, Scene I). Recorded during Shakespeare Mas, Carriacou, Grenada, 1991. 
Coahama – A podcast based on the 1941 – '42 study of music and other oral expressions conducted in Coahoma County, Mississippi by the Library of Congress (LOC) together with researchers from Fisk University in Nashville.
As a companion to our repatriation of the Historic Mississippi Lomax Recordings, a series of podcasts, hosted by blues scholar Scott Barretta, was produced in collaboration with the Delta Center for Culture and Learning at Delta State University.