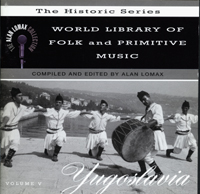 Recorded 1951 by Peter Kennedy with the aid of the Yugoslav Council for Science and Culture
Original notes by Albert Lord.
Newly edited and with an introduction and notes by Ankica Petrović and Rajna Klaser. Text transcriptions and translation by Albert Lord and Rajna Klaser 
Made at a national folk festival in 1951, these recordings capture the rich musical traditions and practices prevailing in the territory of the former Yugoslavia. They testify to the depth and scope of ethnomusicological research by regional folklore institutes in their quest to construct a supranational culture — Yugoslavia — poignantly reminding us of an ideal of cultural co-existence.
"Some of the tracks are stunningly beautiful, others are unusual and intriguing, and there are some to which I will never grow accustomed. The overall goal, however, is preservation of a diverse culture's folk tradition, and in that this thorough collection succeeds admirably." —Rambles