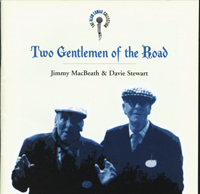 Two Gentlemen of the Road: Jimmy MacBeath and Davie Stewart
Recorded 1951–1957 by Alan Lomax and Hamish Henderson
Notes by Ewan McVicar
These two discs of personal history, ballads, and fairy tales offer fascinating insights into the lives and music of two singer-storytellers, Travelers from northeast Scotland. Jimmy MacBeath's warm, husky voice made him one of Scotland's most beloved traditional singers. His friend, and occasional traveling companion, Davie Stewart, won similar fame for his dramatic delivery and idiosyncratic accordion accompaniments, which impressed all who heard him. The first disc describes the traveling life on the roads of Britain, Ireland, and further afield, and includes a chilling story of murder by "berkers" (body snatchers).
"The significance of these recordings cannot be stressed too highly and we are truly indebted to Lomax for spending so much time and effort in making them." —Musical Traditions