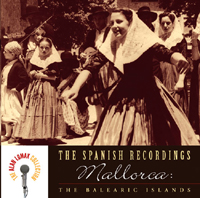 Mallorca: The Balearic Islands
Recorded 1952 by Alan Lomax.
Editor: Manel Frau
Lyrics transcriptions, introduction, and notes: Manel Frau
Translations: Manel Frau, Judith Cohen 
The 1952 Palma Folklore Festival was the springboard for Alan Lomax's six-month recording trip through Spain. From the exuberant music of the Festival, he went on to record the island's ancient threshing and olive picking songs, raucous friction drumming, and tunes played by shepherds on moonlit, lonely hills. Contains previously unreleased recordings.