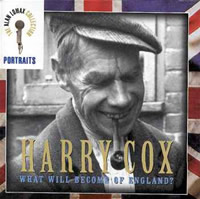 Harry Cox: What Will Become of England?
Recorded in 1953 by Alan Lomax and Peter Kennedy Notes by Peter Kennedy
Harry Cox (1885–1970) is known as one of the most important traditional English singers to have ever been documented. His songs were first transcribed and published by Norfolk composer Ernest John Moeran in 1921. Harry Cox grew up on the damp and impoverished Norfolk fens and learned to sing and play the melodeon around the fireside "to cheer ourselves up," and with his father at the pub. He became a prolific bearer and interpreter of England's country folk song tradition. Here is a selection of his songs, fiddle and squeezebox tunes, and reminiscences about turn-of-the-century farming, fishing, and family life in rural England.
"Essential listening for serious fans of traditional song." —Musical Traditions