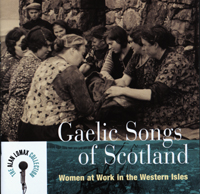 Gaelic Songs of Scotland: Women at Work in the Western Isles
Recorded in 1951 by Alan Lomax
Notes and translations by Margaret Bennett
On a visit to Gaelic Scotland in 1951 Alan Lomax recorded over 250 songs within a few days. This collection documents a way of life entirely lost in twenty-first century Scotland. It contains a rich variety of songs performed with breathtaking beauty and tenderness by women at work — at a time when work patterns in the Highlands and Islands of Scotland were still traditionally gender-based and women did most of the child-caring; domestic and dairying tasks; carding, spinning and dyeing of wool; and waulking (fulling) of cloth after it had been woven. Singing made the work lighter and more meaningful and induced the cows to give more plentifully of their milk.
"The peerless liner notes make the whole package akin to a valuable textbook, and the music contained within its faded leather cover is as pure, untouched, and otherworldly as the country itself." —All Music Guide