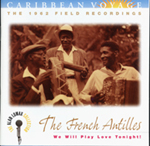 The French Antilles: We Will Play Love Tonight!
Recorded by Alan Lomax, assisted by Antoinette Marchand
Notes by Dominique Cyrille and Julian Gerstin, with Monique Desroches
Music from Guadeloupe, Martinique, and St. Barthélemy, former French colonies with allied yet distinct musical cultures. Guadeloupe and Martinique enjoy a strong Afro-Creole heritage of drum dances, wake songs, stories, quadrilles, and vibrant urban dances such as the beguine, while their small East Indian populations preserve the Kali sacrificial rituals. St. Barthélemy's French heritage includes European ballads dating from early Colonial times. This collection offers an exciting portrait of these diverse traditions.