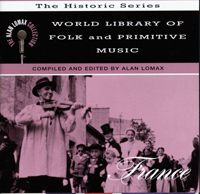 France
Recorded (1913–86) by Ferdinand Brunot, Claudie Marcel-Dubois and Marie-Marguerite Pichonnet-Andral, Felix Quilici, Brigitte Cardon, and Jean Dominique Lajoux
Originally selected and edited (1955) by Claudie Marcel-Dubois and Maguy Andral from the Musée National des Arts et Traditions Populaires
This newly remastered, expanded edition of Claudie Marcel-Dubois and Marie-Marguerite Pichonnet-Andral's path-breaking 1954 LP for Columbia World Library brings us a tonal landscape as varied and beautiful as the provinces of France. Featuring historic performances by traditional singers (some recorded as early as 1913) and unusual instruments, including the hurdy-gurdy, bouhe and cabrette bagpipes, galoubet, chirula, ttunttun, gralla, church bells, and épinette des Voges.
New tracks include a bombarde and biniou duet (by Pierre Crépillon and Laurent Bigot, recorded 1995) and the Kemper bagad ensemble (1998), both from the Bréton folk revival; and brass band music from the French Antilles (Guadeloupe).
This edition produced in collaboration with the Musée National des Arts et Traditions Populaires / Centre d'Ethnologie Française; in collaboration with Yves DeFrance.