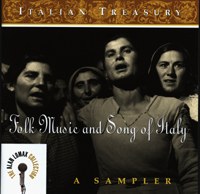 Folk Music and Song of Italy
Recorded in 1954 by Alan Lomax and Diego Carpitella with additional recordings by Ernesto de Martino, Giorgio Nataletti, and Antonio Santoni-Ruju
Original notes by Alan Lomax; introduction by Anna Wood and Goffredo Plastino. 
This classic anthology, first issued in 1957, samples the many traditional musical cultures of pre-industrial, pre-technological Italy. Representative in the broadest possible sense, it covers Italy from Sicily to the Alps and restores to us, in all its startling beauty and variety, the music of shepherds, laborers, farmers, fishermen, artisans, city folk, and mountaineers.
"Lots of wonderful singing and playing… I would recommend it to everyone." —Musical Traditions