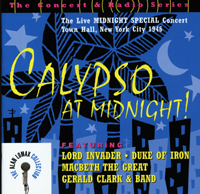 Calypso at Midnight!
Concert produced by Alan Lomax and People's Songs, Inc. and recorded live on acetate discs by Alan Lomax on December 21, 1946
Notes by Steve Shapiro, Donald R. Hill, and John Cowley
People's Songs' "Midnight Special" concerts (Blues at Midnight, Ballads at Midnight, Strings at Midnight, etc.) were staged between 11 p.m. and 1 a.m. at New York's Town Hall, offering a lively and budget-priced after-theater destination. Hosted by Alan Lomax, the Calypso at Midnight show was held in December 1946 during the height of America's love affair with calypso. Three of the greatest New York-based calypsonians, Lord Invader, the Duke of Iron, and Macbeth the Great accompanied by Gerald Clark and His Invaders, perform a mix of well-known and original material, suavely introduced by Lomax. These CDs are a sentimental journey back to the historic days of early calypso, and back to the era when progressive politics and folk music were united.